Sports promotion lottery subsidies (Toto): Japan Sport Council
There are three subsidy projects.
Maintaining clubhouses, turfing the grounds, maintaining sports facilities, etc.
Establishing and running comprehensive community sports clubs
Holding sports classes, sports competitions, etc., training and deploying sports instructors
Research, providing sports information, operating minibuses
Project to promote a virtuous cycle for community sports and top-level sports: Ministry of Education, Culture, Sports, Science and Technology
Comprehensive community sports club email newsletter: Japan Sport Association
Read about the latest grants in the bimonthly email newsletter published by the Japan Sport Association.
Feel free to use them.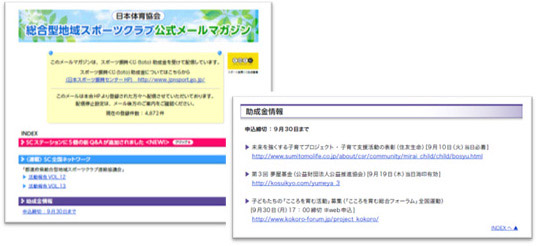 Back to Osaka Prefecture Wide Area Sports Center top page ▶