Osaka Prefectural Nature Parks
Osaka Prefectural Nature Parks
About the Nature Parks
To mark the 100th anniversary of the prefectural government, the Osaka prefectural government established the Osaka Fumin no Mori ("Osaka Prefecture Citizens' Forest") parks amongst the natural splendor of Kongo-Ikoma-Kisen Quasi-National Park. There are a total nine nature parks, from Kurondo Enchi in Katano city to the north to Horigo Enchi in Sennan city to the south. Each park is unique. Visitors can enjoy the wonders of nature, such as the natural scenery of the season.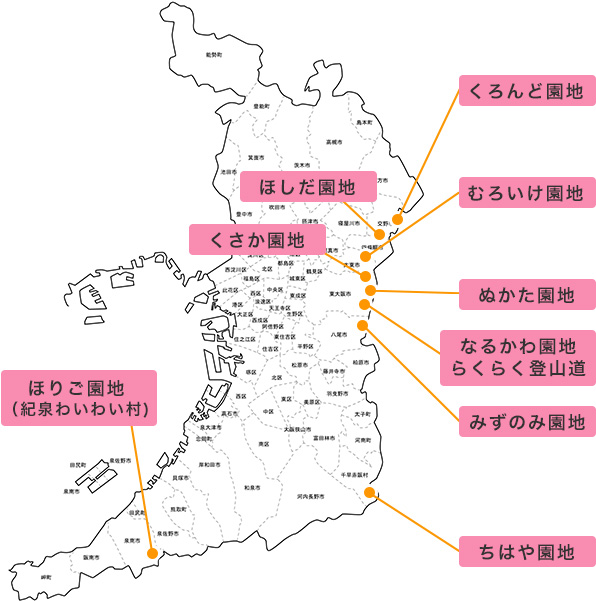 Kurondo Enchi
Hiking trail

A 50-minute walk from Keihan Kisaichi Station, or a 75-minute walk from JR Kawachi-Iwafune Station. The hiking trail has gentle ups and downs and is easy to walk. In spring, skunk cabbage, cherry blossoms, and rhododendrons bloom. In autumn, bald cypress leaves yellow and entertain the hiker's eyes. You can also enjoy barbecue while taking in the scenery of the four seasons.
Hoshida Enchi
Climbing wall

A 40-minute walk from Keihan Kisaichi Station via the riverside road. Walk "on air" and through fresh verdure or autumn leaves on the Hoshi no Buranko suspension bridge (total length 280 m, altitude 50 m), or take a walk through nature via the wooden pedestrian bridge. There's also a climbing wall, which was used for a national sports festival.
Muroike Enchi
Long-distance obstacle course

A 60-minute walk from JR Shijonawate Station via a hiking trail. The hiking trail in the park has few ups and downs and makes for an easy hike. The Forest Workshop provides information on the park's nature and also holds workshops using natural materials. Forest Treasure Island has a long-distance obstacle course and a giant slide—fun for children and adults alike.
Kusaka Enchi
Kobushi no Tani valley

A 50-minute walk from Kintetsu Ishikiri Station via a hiking trail. Magnolia kobus and plum blossoms bloom in Kobushi no Tani valley in early spring, and wild cherry blossoms bloom here and there in spring. There are places on the hiking trail that afford breathtaking views over the Osaka Plain.
Nukata Enchi
Wild cherry blossoms

An 80-minute walk from Kintetsu Ishikiri Station via a hiking trail. One of the best hydrangea gardens in Kansai (about 30 varieties, 25,000 stocks) spreads along a winding 1,500-meter path, where you can enjoy the flowers from mid-June to early July. Before the hydrangeas, wild cherry blossoms, dogwoods, and weigela coraeensis bloom, coloring the hills pink and white. Many wild birds such as copper pheasants and insects such as butterflies can be seen here.
Narukawa Enchi (Raku-raku Trail)
Azaleas

An 80-minute walk from Kintetsu Hiraoka Station via a hiking trail. From a grassy open hilltop, you can overlook the Osaka Plain, and when the when the weather is nice, you can see as far as Awaji Island. In spring, wild cherry blossoms create a wall of flowers. The winding, 500-meter hiking path is covered with azaleas on both sides. The Raku-raku ("easy") Trail is gently sloped so that senior citizens, parents with strollers, and people on wheelchairs can reach the top of a hill, where you can enjoy the view of the Osaka Plain.
Chihaya Enchi
Chihaya Museum of Stars and Nature

A 60-minute walk from the Chihaya Ropeway-mae bus stop (Nankai Bus or Kongo Bus) via a hiking trail. Chihaya Enchi is located on the summit of Mt. Kongo at an altitude of 1,000 meters. You can enjoy barbecue all year round, wild flowers such as katakuri and rhododendrons in the spring, and camping in the summer. You can also watch the stars at the Chihaya Museum of Stars and Nature.
Horigo Enchi
Waiwai-mura in spring

Get off at Izumi-Sunagawa Station on the JR Hanwa Line, take the Sennan City Community Bus, get off at Warazuhata bus stop, and walk 60 minutes along the Horigo Dam. Or 10 minutes by car from the Sennan IC on the Hanwa Expressway. Kisen Waiwai-mura in Horigo Enchi is an accommodation facility where you can experience traditional Japanese country living. In addition to farming such as rice planting, you can try various hands-on programs such as baumkuchen and pizza making, craftwork, and nature observation. The lodging buildings have traditional Japanese hearths, cook stoves, and Goemonburo bathtubs. A camping site opens during the summer.
Fumin no Mori official website Horigo Enchi official website